Wish Lists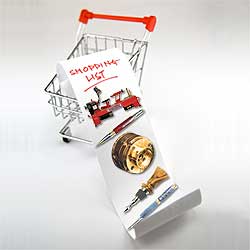 A wish list puts your favorite Penn State industries products at your fingertips, ready when you are. Make a wish list for anyone, for any reason. Collect gift ideas for birthdays, anniversaries, and special occasions. Or make a list for yourself: hot new pen kits, must have turning tools, pen turning starter packages. Your wish list can be shared with others, or kept to yourself. It's easy to add or delete items too.
You can add items to your wish list by finding the item in our store and clicking the "Add to Wish List" link located underneath the item's price.
Find a wish list by entering the first, or last, name associated with the wish list. You will then be directed to their registry. When you find the item that you would like to purchase, click the "Add to Cart" button. Proceed to checkout and purchase your item(s).