We've done all the work in preparing the wood blanks you need to make Penn State's 7 mm Pen and Pencil Kits.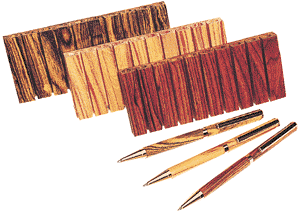 These Blanks Are:
Pre-cut to exactly the right length (2-1/32'')
Squared so your pen or pencil will assemble perfectly
Pre-drilled to accept the 7mm tubes
We carefully selected our woods to assure you attractive finished pens and pencils.
Each package of "Quick Blanks" contains 10 blanks, enough to make 5 complete pens or pencils.
NOTE: These blanks may not work with kits sold by others because the tube lengths may vary.
SPECIAL OFFER
Save $15.45
12 packs-120 Wood Blanks/12 Species
PK-X98
$119.95/set
QUICK BLANKS
10 blanks per pak (mix & match)
STANDARD WOOD PACKS

PRODUCT #
DESCRIPTION
1-4
5+
PK-X20
Bird's Eye Maple
$9.95/ea
$8.95/ea

PK-X21
Black Walnut
$9.95/ea
$8.95/ea
EXOTIC WOOD PACKS

PRODUCT #
DESCRIPTION
1-4
5+
PK-X10
Honduran Rosewood
$11.95/ea
$10.95/ea

PK-X11
Mexican Bocote
$11.95/ea
$10.95/ea
PK-X13
Purpleheart
$11.95/ea
$10.95/ea

PK-X15


Padauk

$11.95/ea
$10.95/ea

PK-X16


Bubiaga

$11.95/ea
$10.95/ea
Top of Page
RARE WOOD PACKS

PRODUCT #
DESCRIPTION
1-4
5+
PK-X01
Cocobolo
$13.95/ea
$12.95/ea

PK-X02
Tulip Wood
$13.95/ea
$12.95/ea
PK-X03
S. American Kingwood
$13.95/ea
$12.95/ea
PK-X04
S. African Kingwood
$13.95/ea
$12.95/ea
PK-X05
Zebrawood
$13.95/ea
$12.95/ea