About Penn State Industries
Penn State Industries offers a large selection of high quality Pen Making Kits, 24 kt. Lathe Project Kits, award winning Dust Collectors, and a large selection of innovative woodworking machines, tools, and accessories.
Check out our product line-up, call or E-mail us for a FREE CATALOG, or call our toll free number for more information.

Penn State Industries is committed to provide the serious hobbyist woodworker with an exclusive selection of woodworking products, projects, kits, machines and accessories. Nearly every Penn State product has been designed and manufactured as a unique "PSI" brand product. As a 2nd generation family owned business, we pride ourselves on our family legacy of hands-on commitment to our customers. At Penn State, your concerns, comments, and ideas are only an earshot away from the executive offices.
Several of our product lines are particularly noteworthy:
The Carba-Tec Mini Lathe. This is a wonderful full featured lathe in a small format. Ideal for small projects including pencrafting, small bowls, vases, candle holders etc.... This variable speed lathe features cast iron construction, #1 MT headstock and tailstock mounts, 3/4 x 16tpi headstock thread. Penn State carries a full compliment of chucks, toolrests and faceplates. Weighs only 35 lbs.
Duplicator Attachment for the Carba-tec. Make flawless and attractive duplicate turnings every time with this excellent attachment. Penn State offers duplicating templates for several popular projects.
Our Complete line of Dust Collection products. Featuring three "Award Winning" Models #DC1B-5, #DC3-and DC250 systems as reviewed in the April 1997 issue of Wood Magazine. Our line includes an extensive line of dust collection products unmatched in the industry including:
Fittings, splices and hose adapters to connect your machines to Dust collectors.
Table top downdraft table - just hook your Dust collector into it
4" I.D. flex hose in 8' and 50' lengths at incredible prices.
The "Long Ranger" remote radio switches to turn on your collector from anywhere.
A 2-stage separator lid that is placed on top of a trash can.
A new Cyclone separator system - bringing commercial technology to the hobbyist.
High filtration 5 micron replacement bags to fit nearly any collector on the market.
The AC465/AC930 ambient air cleaning systems .
The #DC720 table top 720 CFM dust collector.
Top of Page
Pencrafting projects and supplies. Making wooden pens is an excellent pastime: Our line includes over 40 easy to make kits that bring top dollar at craft shows and make wonderful gifts. Items in this line includes:
Pens kits featuring: "Slimline" (Cross style), "Designer" (Mont Blanc style), "Classic" (Parker style) and "Traditional" style pen kits.
Specialty kits that includes: Keychain kits, Perfume Atomizer and Perfume pen kits, Penlight kit, Egg-kaleidoscope kit, Spinning Top kit and more...
Pen making accessories that includes Drill guides, Glues, Abrasives, Polishes, Pen Mandrels and more...
Project wood and alternative materials.
Pen gift boxes, display cases and stands.
Project Accessories and Supplies: Penn State provides numerous hard to find component sand accessories to make a variety of creative woodworking projects. Including:

Clock fitups, from 1-7/16" up to 3-7/8"
Salt and pepper mills and Stainless Steel Cutlery Blades
Potpourri Bowl lids - ceramic, pewter, brass and bone china
Glass soil lamp candles - as candle replacements, bowl inserts and self standing.

Top of Page
And much, much more...

Woodworking machines including: Planers, Scroll Saws, Drill Presses, Bench top stationary sanders and Pneumatic air guns
Exclusive line of "Benjamin's Best" HSS lathe chisels from the UK
Scroll saw accessories including: Lettering guides, measuring devices, art projectors, scroll saw blades, magnifier lamps, and more...
"ProCut" line of 10" Carbide tipped saw blades in 30, 40, 60, 80, and 100 tooth
And much, much more...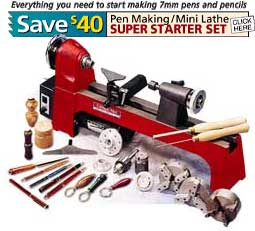 Order Toll Free: (800) 377-7297
Technical Help: (800) 656-4-SOS
E-mail:psind@pennstateind.com
Order by fax: (215) 676-7603