Place an online order of $59 or more on
over 2700 qualifying products between
November 27 and December 11
(11:00 AM EST) and we'll Ship it to you via Standard Ground Shipping for FREE.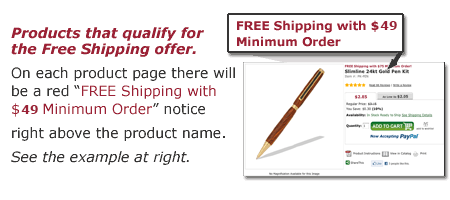 Receive free ground shipping on your merchandise order of $59 or more on qualifying products* (excluding taxes) made at pennstateind.com made between 11/27/13 and 12/11/13 at 11:00 AM EST. Offer redeemable for online purchases only. Offer not valid in conjunction with any other promotions, discounts or offers. Offer applies to standard UPS ground shipping in the contiguous 48 states. Offer not valid for Alaska, Hawaii, Puerto Rico, Virgin Islands or for International Orders including Canada and Mexico. Additional shipping charges apply for express shipping. Offer not valid for prior purchases, mail orders or phone orders.
*Offer not valid for over-sized or special delivery items containing weight and/or size restrictions including most Ductwork, TEMPEST Cyclone Dust Collectors, Bag-Style Dust Collectors, Turncrafter and PenPal lathes and more (See product descriptions for free shipping eligibility.)
This offer is valid only through 11:00 AM (Eastern Time), Wednesday, December 11, 2013